When Donald Trump was elected president of the United States, some of us expressed doubt as to whether a business man come reality game show host would have the political acumen necessary for the job. Others were concerned that a person with Trump's impulsive character would have the worlds most powerful nuclear arsenal at his disposal. But, none of us could have predicted just how soon he would play the "covfefe" card.
The president's mention of covfefe has set the heads of political analysts spinning:
Bunker Cheeks, BBC Political Analyst

This is unprecedented. To mention covfefe so soon into your first term as president represents an enormous political gambit, it's a game changer. It will make or break his presidency. The last president to mention covfefe was Kennedy, and I'm pretty sure that he lived to regret that.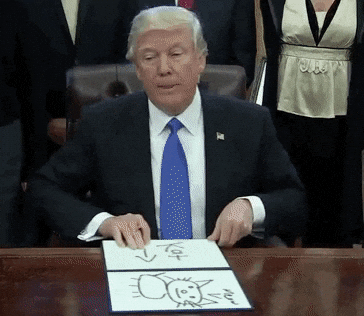 Many people were worried that the president had raised such a nebulous issue as covfefe at an inopportune moment, on the eve of important climate talks. But the president stuck to his guns, arguing that if Paris had an accord then why didn't New York? The president then abruptly left the talks. Gerd Achterschip was a delegate in the meeting:
The President Trump stormed out of the talks so quickly that he resembled a sort of golden, orange gas. As he left the room he kept chuntering "covfefe" and made wild lurches towards all the female delegates.
One thing remains certain, amidst all of the political carnage, President Trump is unlikely to stop serving us with a veritable smorgasbord of covfefe and flapdoodle.
It's testimony to the renegade maverick nature of this president, and shows all of us that he's not going to kowtow to the Washington elite by using a lexicon they understand. Following the president's tweet, covfefe climbed a point on the New York Pussy Grab Index as traders backed the president's tough stance on covfefe.

Brian Williams – CSNBC